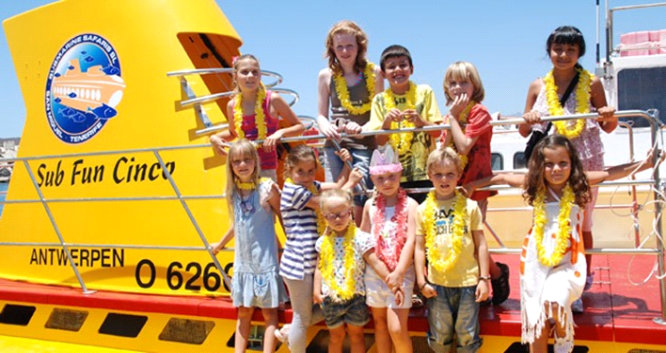 Activities with children in lanzarote
There are certain destinations where it is very difficult to reconcile holidays and children, but in Lanzarote we will not have much problem with it and that is that we can find a whole lot of plans for the little ones of the house and for the more adults.
Along the island we find an area of about 800 square meters where we can do many more activities than you can imagine.
Don't know which destination to choose for your kids to have a blast this summer? Lanzarote is your best bet!
LANZAROTE
Dive into a submarine: One of the best plans that can be carried out on the island. There is a submarine that allows us to dive to a depth of between 60 and 70 meters, with windows so that we can enjoy to the fullest everything that the sea offers us. He'll get to the bottom where he'll be for an hour or so. We can make all kinds of photographs or videos of what we find there.
Visit to Timanfaya: : It is a national educational park with guides that will help us learn new things. One of the main features of this plan is that teaching exhibitions are organized so that we can know how volcanic activity develops; to do this they pour a bucket of water into the cracks of a certain area and we can see how fire and smoke come out of there.
Riding in dromedary: To go to the park mentioned above we have transport alternatives, but without a doubt the most characteristic is to do it in dromedary. An interesting walk that I'm sure we won't forget throughout our lives.
Visit to "Rancho Texas Park": Cowboys, shows, varied zoo, and a whole series of activities that will make us have a great time.
Visit to "Guinate Tropical Park": For its part, this incredible park offers wonderful views of waterfalls, lakes, tropical gardens, as well as its large collection of birds that will leave us with our mouths open. It has an extension of no less than 2500 m2 and has many plans so that neither our children nor us, we can get bored for a moment.
Aquarium: If the beaches are not enough, then we can try the Aquarium, a center specialized in all kinds of water activities. Here we can find typical species of the place (such as giltheads, sargos or muraen) + tropical species. They even have tactile aquariums
Lanzarote beaches: Of course, we cannot leave the island without enjoying with the family the characteristic beaches of the place. They have an average annual temperature that is around 19.5ºC on average, so they remain in the best condition at any time of the year in which we decide to go. Although all are good options, for children we recommend the "White Beach", the "Ensenada de Las Caletas" and "Playa Grande".
With these activities we will live the best vacation of our life.